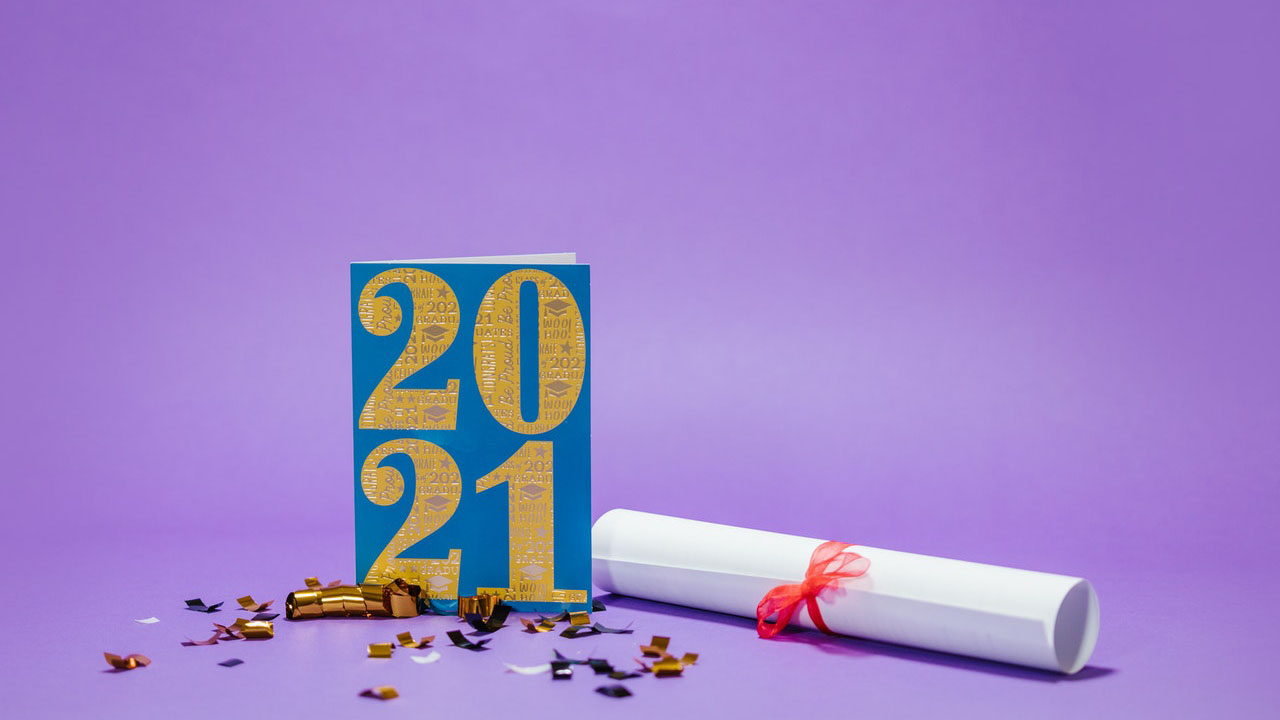 UBC Theatre and Film is immensely proud of our Class of 2021. Over the past few years, these graduates have developed their imaginative, technical, and intellectual skills as they prepare to embark on their careers. They persevered despite unprecedented hurdles in the most difficult of times. Each and every one of them is nothing short of inspirational.
Today, we honour and celebrate their achievements. Meet our Class of 2021: diligent, resilient, and triumphant. We cannot wait to see what they do next.
---
Message from Stephen Heatley, Head of the Department of Theatre and Film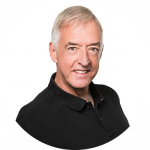 To the esteemed graduates of the Department of Theatre and Film on the occasion of your graduation:
Graduation day can be bittersweet as we say goodbye and good luck to students we have come to know and treasure, and who are moving on to the next exciting stages of their lives. Congratulations on this momentous achievement. You deserve to be proud of your hard work, dedication, and determination. There may have been times of frustration and discouragement, but you have prevailed and the world is a better place because of you.
I encourage you to not be strangers. The Department of Theatre and Film is your scholarly and artistic home and you will always be welcomed back to participate in all of our many activities in the busiest department of UBC. Remember, we are the story-tellers, and the events of the past 15 months will need to be chronicled. We will tell of the bravery and the heartbreak, of the joy and the despair. Stories are the lifeblood of our world and it is through the theatre, the cinema, and the media that these stories are told and retold so, together, we can better understand all that it means to be human.
Stay safe, stay curious, and stay in touch (but, for now, no closer than two metres).
Wishing you all the very best on this special day.
Cheers,
Stephen
---
Undergraduate
Cindy Xu (they/them)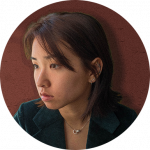 Cindy "Dax" is a photographer, writer, and musician. They graduated from UBC with a BA in Film Studies in 2021 with research focused on Japanese and transnational cinema. Their work focused on intersectional feminist discourse and critical race theory in cinema. Dax moved to Paris, France in 2019 through UBC's Go Global exchange program. 
In 2020, Dax self-published 妹 (Little Sister) — a collection of photographs and poems written in their youth on love and loss. Raised on Vancouver Island, their work lingers on teenage nostalgia and suburbia. "summer on an island" is an on-going photo series that documents their push-pull relationship with their hometown. 
---
Coral Santana (she/her)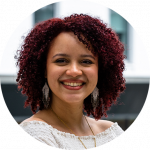 Coral is an Afro-Latina storyteller, producer, and activist born in the Dominican Republic, currently located on the traditional, ancestral and unceded territory of the xwməθkwəy̓əm (Musqueam) people.
In her work, Coral explores her mixed heritage and how colonialism has shaped her perception of self. Her writing is infused with memories from her childhood and how unlearning and relearning her history continues to shape her. She is also the host and producer of DIVERSITY READS, a podcast book club that highlights fiction and poetry by diverse authors. Coral holds a BA in Film Studies with a minor in Creative Writing from the UBC.
@arrecifede.coral
@diversityreadspodcast
---
Ed Li (he/him)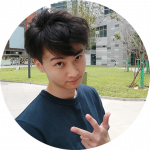 I just love watching films. When I first came to UBC, I didn't know what major I wanted to study. So I went with the major that would let me watch tons of films. Turns out Film Studies was nothing like what I imagined. I had to watch many films that I wouldn't think about watching in the first place, and don't even mention the number of essays I have written over these years. But in the end, I'm glad that I chose Film Studies to be my major. The department has some of the most knowledgeable and caring professors who I was lucky to meet. I also had the chance to study with many smart and friendly classmates along the way. Finally, I want to shout out to Christine for her humor and kindness. 
---
Sabrina Dang (she/her)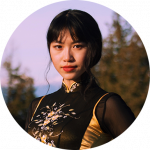 While pursuing my BA in Film Studies at UBC, I have been able to truly nurture my passion for Asian cinema and researching obscure media! As a Third Culture Kid, I also found a home in UBC's cultural clubs, and became Vice President of both the Vietnamese Student Society and Japan Association. In Fall 2020, I wrote and directed the short film "Sunny" for the Vancouver Asian Film Festival. Currently, I work both as an Assistant Producer at the independent documentary company Arise Productions, and as an Undergraduate Researcher for Prof. Ernest Mathijs. My goal as a filmmaker is to bring unique, multicultural stories to the screen, deeply inspired by my Vietnamese and Hong Kong heritage.
---
Tamar Hanstke (she/her)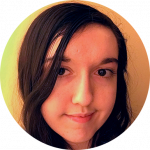 Film studies has been my greatest passion since I was a teenager, and getting the chance to study it at UBC has been a dream come true. I have found it so rewarding to explore such a wide range of films across my degree, with supportive professors who have taught me to apply a rich selection of film theories to my written work. In particular, I have loved delving deep into genre studies, classical Hollywood cinema, and star studies. The abstract for my recent essay on star images in the Golden Age of Hollywood is about to be published in a special edition of the Canadian Journal of Undergraduate Research, and I will be starting my MA in Cinema and Media Studies at UBC this fall.
---
Tiffany Chasson (she/her)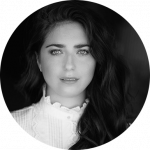 I am an actress, model and dancer from San Diego, California. I plan on moving to Los Angeles after graduation to pursue a career in the entertainment industry! My dream is to make a career out of acting and directing! I am so grateful for my time in the Film Studies Program at UBC and can't wait for all that's to come.
Alysha Forester (she/her)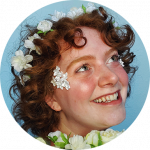 Alysha is ecstatic to be receiving her BA in Theatre Studies. She would like to thank her many friends she's made in the program for their endless support and encouragement. It was this encouragement that has allowed her to be a waitress with a degree rather than a waitress without. She's simultaneously thankful UBC has allowed her to make Vancouver her home and also deeply frustrated with the fact a place this beautiful continues to take advantage of this land and its Indigenous peoples while making false and feeble attempts at reparations that only serve institutions deeply entangled in white supremacy. In the future, Alysha hopes to be a person who leaves people better than she found them. 
---
Britt MacLeod (she/her)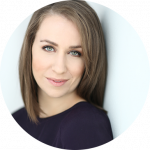 Britt (CAEA) is a queer multidisciplinary artist living and working on the traditional, ancestral and unceded territories of the Musqueam, Squamish and Tsleil-Waututh nations. A graduate of Capilano University's Musical Theatre program, she has worked as an actor, writer, singer, composer-lyricist. She is a published poet and an arts educator. Her band, Rio By Night, has toured Western Canada and has released two studio albums (available on iTunes and Spotify). Britt is currently collaborating with Sally Stubbs on a new musical, Polly and the Penthouse, and will begin her Bachelor of Education at UBC in September 2021.
---
Sun Hee Cho (she/her)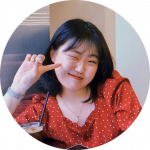 People call me Sunny, and they also say that the name suits me. That is because I am a person who is "sunny" about everything. And this naturally links to the reason why I study theatre. I have always loved making the people around me smile while they are with me. Through theatre, I was able to achieve that, communicating via every small element of a production. I feel so delighted when I positively influence people with my "sunny-ness," by telling various different stories. 
---
Bonnie Duff (she/her)
BFA Acting
Bonnie is a Finnish-Canadian theatre artist and proud UBC Acting grad. She was awarded the Joy Coghill Award in Acting. She also trained at the Guildhall School of Music and Drama in London, England, and is a Teaching Artist at Bard on the Beach. She has worked extensively as an actor with Vancouver companies such as Awkward Stage Productions, Geekenders/Instant Theatre, UBC Improv. She is an emerging playwright and has completed Arts Club's LEAP Playwriting Intensive (L1). Bonnie is interested in Canadian theatre and film, and creating and performing adapted classical pieces. At UBC, she also minored in Anthropology and is a passionate explorer of different cultural definitions of "art".
---
Chantal Dobles Gering (they/she)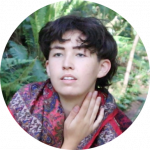 Chantal is a queer latinx/german actor, choreographer, playwright, and poet. Previous acting credits: Concord Floral (2017 Push Festival), One of a Kind (2018 International Children's Festival), Centurions (2019 Play Development/Presentation), Isle dell'Arte, The Changeling, Bonjour, Lá, Bonjour, and Digital Dream Play (UBC). They co-wrote and performed Clitorisms (2020 Instagram Live Show), produced the 24 hour playwriting competition Play4Change (2018), and premiered their play Papa Records Everything in the 2020 National Theatre School's Art Apart Festival. Catch her next in The Last Jubilee, a cabaret docu-thriller (UBC thesis project) and Bird Play, a poetic and musical tale (Nanaimo Fringe).
@chantallives
https://ent-nts.ca/en/blog-art-apart-papa-records-everything
---
Charmaine Sibanda (she/her)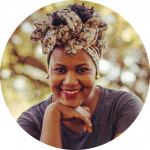 Charmaine is a Zimbabwean/Canadian theatre and film artist. She was born and raised in Zimbabwe, and moved to Canada in 2009. Her UBC credits include: David's Redhaired Death, Hot L Baltimore, Isle dell'Arte, Revolt. She Said. Revolt Again, and Digital Dream Play. She trained with The Company of Rogues Actors' Studio in Calgary; a Theatre Performance Intensive and Audition program. Charmaine is also a singer and trains professionally as such. Charmaine is passionate about film and hopes to study and practice as a Film Director once her Acting career is solidified. Her almost six year old son is her favourite passion of all time. He has been her inspiration and guiding light every step of the way.
---
David Lundmark (he/him)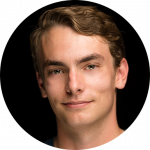 David is a recent graduate from the BFA in Acting program. He is a Canadian film and theatre actor with a wide variety of skills in both comedic and dramatic roles. David also has a passion for improv. Based both in Vancouver and Calgary, he plans to work primarily in film, while still keeping a foot within the theater industry. UBC credits include Digital Dream Play, The Changeling, Problem Child, Isle dell'Arte, and The Hot L Baltimore. 
---
Erin Purghart (they/she)
Erin is a multidisciplinary artist based in Lower Mainland, BC. Erin specializes in acting, comedy, producing, marketing, and dance. On the side, Erin is also a singer, graphic designer and writer, as well as an emerging voice actor and drag performer. On top of being a recent graduate from UBC's BFA in Acting program, Erin is also trained in eight different styles of dance including: Ballet, Jazz, Tap, Contemporary, and Hip Hop, and has trained for over eight years as an improviser in both English and French. Erin's acting experience includes both film and theatre work. Their theatre experience includes: work with contemporary and classical text, and devised and masked theatre.
---
Heidi Damayo (she/her)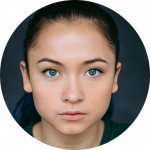 Heidi is a multidisciplinary theatre artist and proud prairie girl from Treaty 7 territory. Select acting credits include: Mustard (The Arts Club/Belfry Theatre), New Canadian Kid (Green Thumb Theatre), and She Kills Monsters (UBC Theatre). She has also done motion capture for the virtual K-pop group K/DA. Her playwriting credits include Morning Glory and LIVE (Arts Club Leap Program), and Generations (Nightswimming Theatre). She is a Nightswimming 5x25 commissioned playwright and has done dramaturgy for Affair of Honor and Lunchbox Theatre. She is an FDC Intermediate Actor-Combatant (with conditions), a Wesbrook scholar, and a recipient of the Stephen Woodhouse Memorial Prize. 
---
Holly Collis Handford (she/her)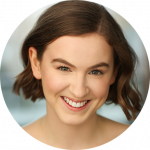 Holly is a Canadian actor pursuing theatre and film. She achieved her ARCT in Voice Performance (classical singing) from the Royal Conservatory of Music and loves to incorporate live music and singing into her work. Her acting credits include Julia in The Two Gentlemen of Verona (Greater Victoria Shakespeare Festival), Agnes in Revolt. She said. Revolt again. (UBC), and Empress Irene in The Tragedy of Irene (UBC English Students' Association). Holly is also a dancer trained in ballet and jazz and a composer whose original music has been featured in multiple theatre productions. Holly is delighted to be spending her summer performing in Commedia in the Park with Axis Theatre.
http://www.hollycollishandford.com/
@hollycollishandford
---
Shannon Poole (she/her)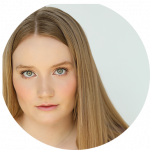 Shannon is a Canadian/Australian actor, who has lived in both Vancouver and Oxford, England. She has studied acting, singing, and dance. Shannon danced at Arts Umbrella from the ages of 5 to 14 and has over ten years of singing instruction. She sang for the Vancouver and Oxford chapters of National Associations of Teachers of Singing. Shannon was inspired to become an actor when she trained at Authentic Performance Academy in Oxford.
@poole_shannon
https://www.shannonpoole.com/
---
Shona Struthers (they/she/he)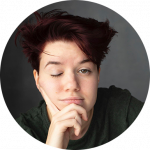 Shona is a UBC BFA Acting Graduate, former PT Apprentice, Affair of Honor company member. An actor, Intermediate FDC Actor Combatant, Advanced BADC Actor Combatant, technician, and sound designer. Recent select acting credits: Ares in Playthings (Affair of Honor), Joan of Arc in Mother of the Maid (Pacific Theatre), 25 in The Wolves (WithASpoon, Rumble). Just excited to be here, gang – congrats to all the grads of '21! 
Hannah Abbott (she/her)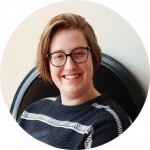 After graduation, Hannah will be continuing her studies in the MFA program at UBC focusing on technical direction in the Theatre Design and Production program. She also plans to work in the Vancouver Theatre and Film industry as a producer, designer and technician. She is passionate about telling powerful and socially relevant stories through the theatrical and cinematic arts. She will continue to work to push the boundaries to engage diverse audiences and make a difference through the entertainment arts. 
https://hannahabbott421.wixsite.com/mysite
---
Jane Li (she/her)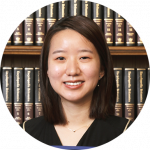 Born in Vancouver and raised in Japan and China, I am passionate about working mostly as a Production Designer for both the stage and screens. I am happy and thankful to get to explore scenic design at my dream university, UBC. I am looking forward to continuing to create the magic of art with like-minded people who also enjoy the art of storytelling as much as I do. Thank you to all my friends and family and mentors for all the support and love <3
https://www.jane-li.com/
@janeli.art
---
Sandy Park (she/her)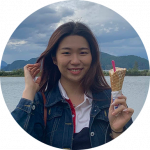 Sandy is a graduate of the BFA Design and Production program at UBC. Starting from the bottom, she has learned the basics and techniques of theatre design for the past four years. She has been focusing on mostly lighting and sound throughout her time at UBC, along with projections, set and costumes. She is capable of using a variety of software such as: Vectorworks, AutoCAD, Isadora, Qlab, Pro Tools First, and Adobe Photoshop. She believes design of one can impact or inspire one another. Sandy firmly believes in working hard, working together and having fun along the way. 
https://sandyparkpark.wixsite.com/sndyprk
---
Zoe Feng (she/her)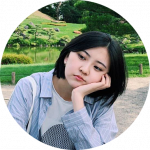 Zoe is a BFA Design and Production graduate specializing in stage management. She is passionate about working on a diverse range of genres in live production. She was born in Seattle, grew up in Beijing, and studied in Vancouver. Having access to a variety of cultures and languages growing up, she was able to extend her work opportunities onto a global platform. This includes being actively involved in UBC Theatre: The Changeling, The Crucible, NCPA Production of Bellini's Opera: La Sonnambula, movie screenings and various children theatre in Beijing Playhouse etc. Besides Zoe's plan to pursue an MFA in stage management, she is devoted in graphic design and motivated with learning.
Clara Salameh (she/her)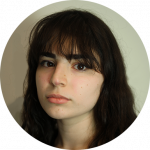 Clara has known of her passion for writing and directing films since the age of seven. Born in Lebanon and raised in the United States and the Middle East, Clara was influenced by every culture and way of life that she has been exposed to throughout the years. These experiences have molded and have influenced her drive for filmmaking and storytelling.
---
Daina Zachariah (she/her)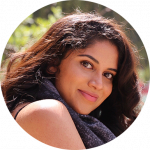 Daina is a BFA Film Production graduate who has a passion for producing and the business of the film industry. From Edmonton, Alberta, at a young age, she studied piano and taught herself guitar, videography, and video/audio editing. Growing up, she created amateur films featuring her family and friends. At the age of 17, she directed her first official Film Festival Selection and winner, Remember When. Having gained experience producing three student films through her years at UBC, she hopes to earn a Masters degree in Business to combine her knowledge of film with the craft of what it takes to be a showrunner in the industry. 
---
Melissa Lam (she/her)
Melissa is an emerging filmmaker from Singapore who just completed the Film Production program at UBC. Captivated by the creative, technological, and business marketing sides of filmmaking, Melissa has delved into a wide range of filmmaking styles - from creating corporate and event videos, product advertising and real estate videos, to narrative short films, including DPing and editing award-winning films such as The Wolf That Chased The Sun, Thursday Night, In Loving Memory, and The Right Swipe. Melissa is a well-versed female filmmaker, who strives to share her voice through cinematography and post-production editing.  
http://www.melxlam.com
@melissalammedia
---
Omorose Osagie (she/they)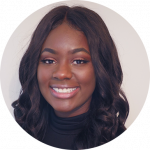 Born in Toronto, Ontario, Omorose began her filmmaking career with an interest in writing. She first studied at Carleton University and then at UBC's Film Production program. She completed her first short film in 2020, then went on to make a short film called The Right Swipe, and is currently working on an animated short film called Glass Doll which has received grant funding. The Wolf that Chased the Sun is her debut short film. 
@therightswipefilm
@thewolfthatchasedthesun
---
Pihu Gupta (she/her)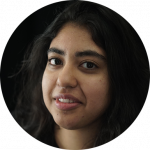 Pihu is a recent graduate of the UBC Film Production program. She grew up listening to stories and developed a passion to share them. Pihu grew up in India and was greatly influenced by feminist ideas and the patriarchal culture of the country. After focusing on producing for the past year, she wants to explore being a director and writer. She wants to write quirky comedies and dramas about strong women of colour that have influenced her and hopes to inspire other people. She loves to read, travel and is a dreamer at heart. 
---
Ross Branch (he/him)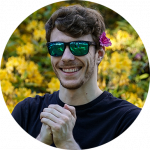 Ross is a 22 year old American filmmaker who strives to bring new perspectives and unconventional topics to the screen through the lens of heightened realism and psychological trauma. Initially aiming to work in Marketing and Business Management, Ross found the more creative and socially impactful world of filmmaking. Now a core passion, Ross intends to start his visual storytelling career strong with the short films Akin (2021) and Möbius Squad (2021).
Now a recent graduate from UBC with a major in Film Production and minor in Creative Writing, Ross aspires to create films that relate to historical, cultural, societal, and psychological issues. 
@rcmbranch
https://rossbranch.wixsite.com/portfolio
---
Sean Patterson (she/her)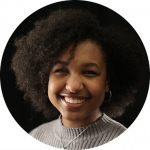 Sean is a graduate from the Film Production program at UBC, interested in a career in writing for television and directing. Originally from Jamaica and born in the United States, Sean grew up in Switzerland, where she began pursuing her interest in film theory and production. Currently, Sean is the recipient of the Freda Springate Graduating Prize for Excellence in Film. She has taken strides to learn about every facet of the industry, interning in Ghanaian television, working at Technicolor's VFX house, serving as editor on promotional video shoots for companies and for global livestream events, and working as an extra on network television series.
---
Shay Scholes (she/her)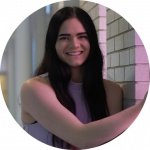 Shay, a Washingtonian-turned-Vancouverite, is a graduate of the UBC Film Production program with a minor in Japanese language. With a passion for learning new things and connecting with others, her films showcase underrepresented voices, particularly the LGBT+ community, of which she is a member. She has directed two student thesis films, Thursday Night and In Loving Memory. She has previously produced the UBC thesis film Akin, and has worked as the sole editor and producer for UBC Asian Studies J-Horror Video Lecture series.
https://scholessha.wixsite.com/shayscholesfilm
 @thursdaynightfilm
---
Graduate
Jemma Dash (she/her)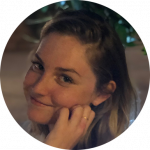 Jemma is leaving UBC's Department of Theatre and Film with an MA degree in Cinema and Media Studies. Her thesis examines the intersection of promotional film teasers and social media, focusing specifically on the emergence of the "internal pre-teaser" (IPT) in Twitter-embedded Hollywood trailers. She is now applying her research to her new role in Marketing and Communications at DNEG, an Academy Award-winning global visual effects and animation company. She is deeply grateful for the support of UBC's Department of Theatre and Film throughout her undergraduate and graduate studies.
Frank Zotter (he/him)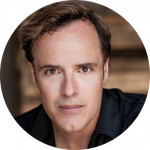 Frank is UBC's first MFA graduate student of Acting. With over 100 productions to his credit, Frank has performed off Broadway at the Abingdon Theatre and at every regional theatre in this country. He has appeared in over 15 Shakespearean productions including playing Puck at the Stratford Festival, Romeo at the Neptune Theatre and Julius Caesar at the Citadel. A graduate of the National Theatre School, he has received five nominations for the Betty Mitchell Awards and four nods for the Elizabeth Sterling Haynes Awards - winning one of each.  Frank provides the voice of Doom in the cartoon series Deltora Quest. He appeared as Constable Roger in Mixed Blessings, Mikey in Twice in Lifetime and in many Hallmark movies.
Vivek Sodal (he/him)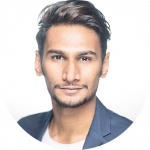 Vivek is a designer of sets/environments for theater, film, and advertisements. Arriving at production design from a background in architecture, his work often focuses on spatial analysis and user interface with the environment. He believes that a design should have the potential to narrate the information outside the script. He completed his MFA in Design and Production at UBC in May 2021. During his time at UBC, he production designed and art directed on several student films. He received the award for Best Production Design for his film Magpie in 2021. Currently, he is pursuing his interests in production design for animated movies and TV shows.
https://viveksodal.com
@viveksodal
Samantha Pineda Sierra (she/her)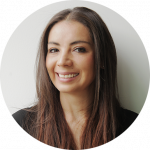 Samantha is a film director, a screenwriter and a UBC MFA graduate of Film Production & Creative Writing. Her films have screened in over 100 film festivals worldwide and her screenplays were shortlisted for Sundance Development Track 2020 and Women in Film and TV Screenplay Competition 2021. She's been part of TIFF Filmmaker Lab 2019 and Berlinale Talents 2016 among others. Her work has been nominated for the ARIEL (Mexican Academy of Film) and funded by cultural institutions like IMCINE (Mexican Film Institute). She has been awarded 24 film prizes, fellowships including "Share Her Journey" from the Toronto International Film Festival and six academic awards.
---
While our congratulatory message extends to all of our 2021 graduates, this post only includes the profiles of students who have opted-in to be featured.