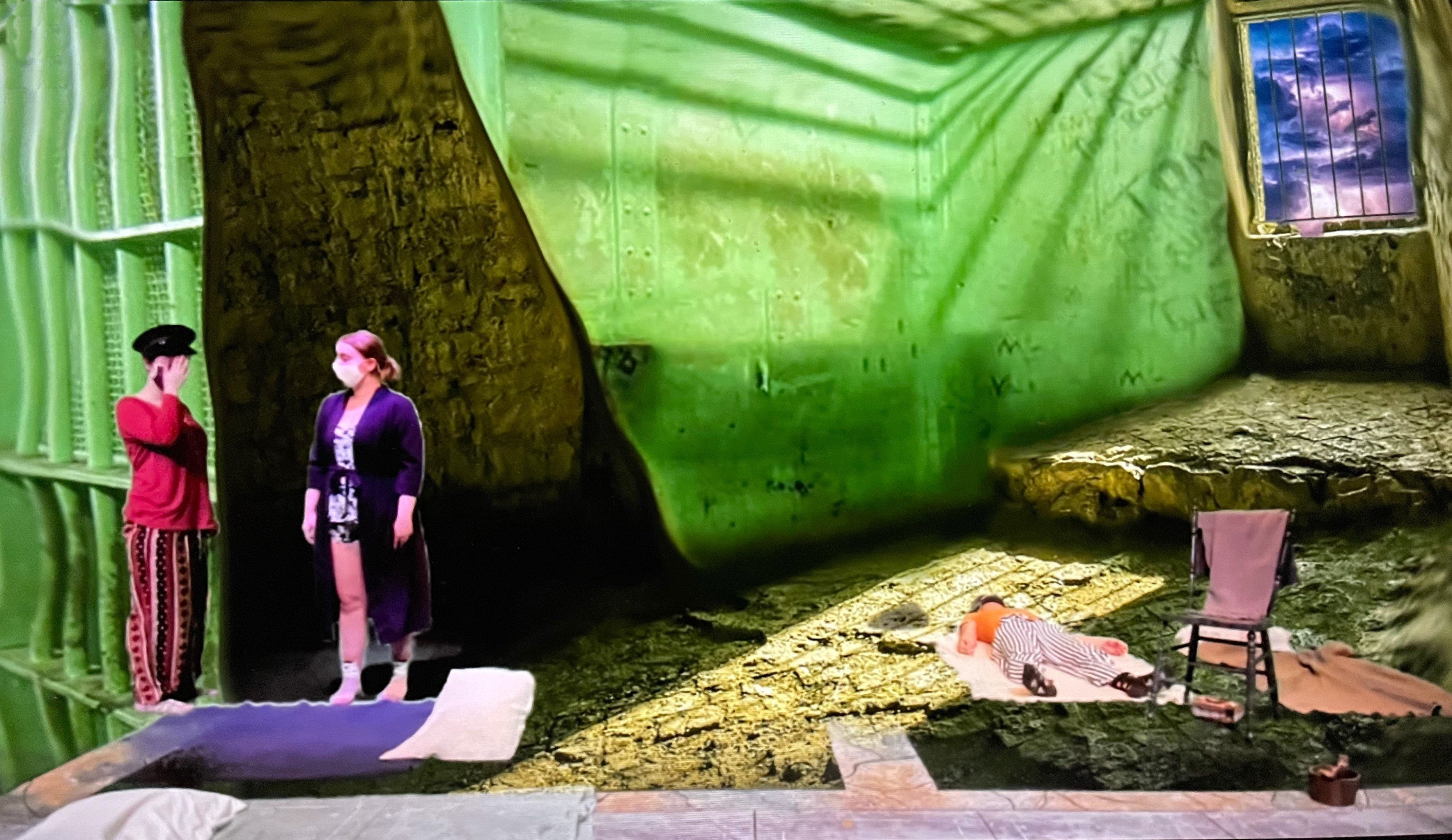 Digital Dream Play
A Contemporary Response to August Strindberg's A Dream Play by UBC's Graduating Acting Class
Directed by Professor Tom Scholte
Digital Dream Play is a response to Swedish playwright August Strindberg's A Dream Play first performed in Stockholm in 1907. In the play's description characters "split, double, multiply, evaporate, condense, dissolve and merge", provoking us to experiment with the potential of off-the-shelf streaming technologies to co-locate actors virtually whose physical proximity is constrained due to social distancing during a pandemic. In our mixed reality experience, live actors surrounded by walls of green screens on a theatre stage transport audiences to dream-like virtual environments. This production is an innovative proposition to the question: "How can technology support theatre-making during a pandemic and how might this influence future audience experiences?" Early and persistent experimentation in the theatre space with cameras, lighting, open source software, virtual scenes, keyframing, sound and operation enhance/extend a typical theatrical production process. "Everything can happen; everything is possible and likely."
Surrealistic digital scenography and actor-driven adaptation/(re)creation close the pandemic-driven distance between us in this dynamic live-stream experiment. Join us as we wrestle with the seeming inevitability of human suffering at a moment when an "existential shrug" is a luxury we cannot afford.
If there were ever a time to produce a play that is structured like a dream, a year into a pandemic seems perfectly fitting. Since March of 2020, our department has transitioned with the rest of the world into an on-line version of itself. The creativity of my colleagues at delivering our curricular content through the many platforms available has been staggering – some on-line, some interactive, some hybrid, some synchronous, some asynchronous, some in-person. The Digital Dream Play is a unique example of the creative collaboration that is the trademark of our department. Thanks for participating in this experiment. Please enjoy this exploration into the liminal space between the live and the digital.
Credits
Showings
Wednesday, April 7 (preview), 7:00 pm
Thursday, April 8 (opening), 7:00 pm
Friday, April 9, 7:00 pm
Saturday, April 10, 7:00 pm
Behind-the-scenes: Technical Q&A
Friday, April 9, 3:00 pm
Location
Live-stream link will be updated 2 hours before show starts. 
Live-streaming on YouTube from the Frederic Wood Theatre
Free. RSVP required.
For any questions or technical support, please email box.office@ubc.ca.
---
* Registration cuts off at 3pm for each show date. Live-stream details will be posted two hours before each showing, please check back then.