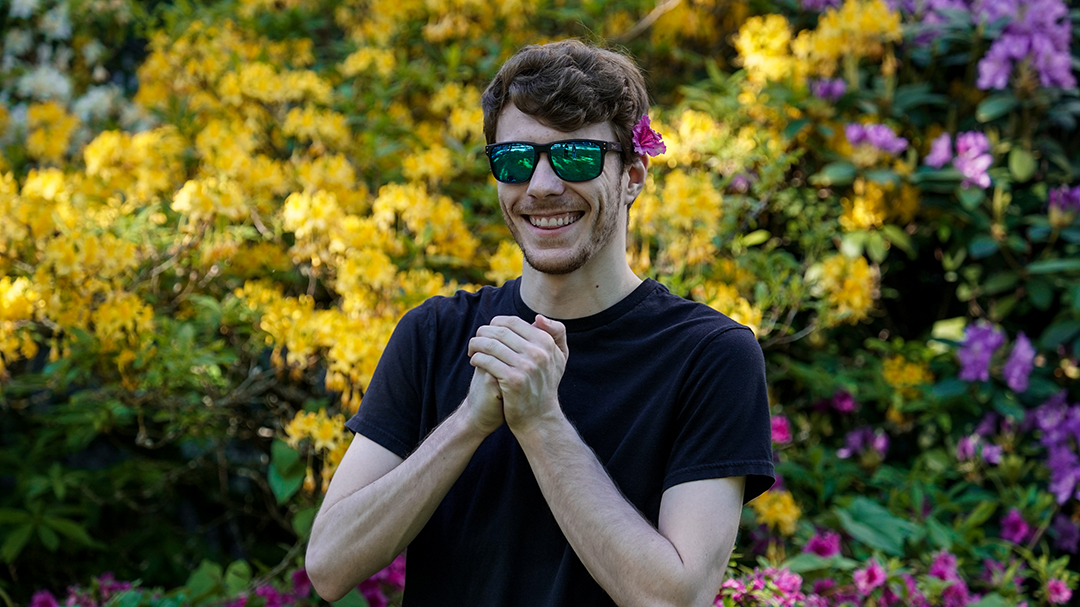 by Shivangi Sikri
The 2020 global pandemic has severely impacted the lives and livelihoods of people in the theatre and film industry. However, during these difficult times, we have also witnessed the exceptional resilience of artists. Theatrical performances are now available for streaming, international audiences can access local film festivals, and production companies are bouncing back from a complete shutdown. UBC Theatre and Film is proud to note that our students have been instrumental in driving this change on a local and global scale.
---
BFA Film Production Alumnus (2021)
Ross Branch is an American filmmaker based in Vancouver, BC. He graduated from the Film Production program this summer. While at UBC, Ross dedicated much of his time to the annual Persistence of Vision Film Festival (POV). Over the past three years, he rose in the ranks, from Volunteer Coordinator to Festival Director. 
In 2020, the festival was scheduled for late April. With no means to shift it online on such short notice, it had to be cancelled. However, Ross refused to let the work of such talented filmmakers go to waste. He decided that the films from 2020 would be carried over to 2021. The festival was slated to return better than ever, with twice the films now available to stream for an international audience.
Ross found that one of the biggest challenges of coordinating a film festival while working remotely was keeping people engaged. Due to the pandemic, people's email inboxes were oversaturated and few had the energy to interact over social media.
"It felt like people were busier than ever this past year. My emails and Facebook posts would go unanswered. So I got creative and I recorded myself giving instructions over my webcam. This worked well because as filmmakers, we're very visual people."
Ross Branch
Ross also had to overcome the hurdle of finding an online platform to host the festival. This involved some intensive research as he had to ensure the films were protected against screen recording and piracy. After weighing several options, he decided on Eventive as it best suited the needs of the festival.
In 2021, the POV festival came back with a bang. It had extended from its usual one weekend run to two weekends, featuring a total of thirty films. It was no longer limited to the seating space within the Frederic Wood Theatre. It was attended by over 250 people from 12 different countries.
"If you're trying to coordinate a film festival, you need to be creative but quick. Problems that aren't anticipated will always arise. Use it as an opportunity to experiment."
Ross Branch
Ross strives to bring new perspectives and unconventional topics to the screen through the lens of heightened realism and psychological trauma. He intends to start his visual storytelling career strong with the short films, Akin (2021) and Möbius Squad (2021).
---
At a time that has been marked with hardship and loss, it is important to remember that we also have reason to hope. Read more about how students in Theatre and Film have adapted their art in the face of a pandemic.