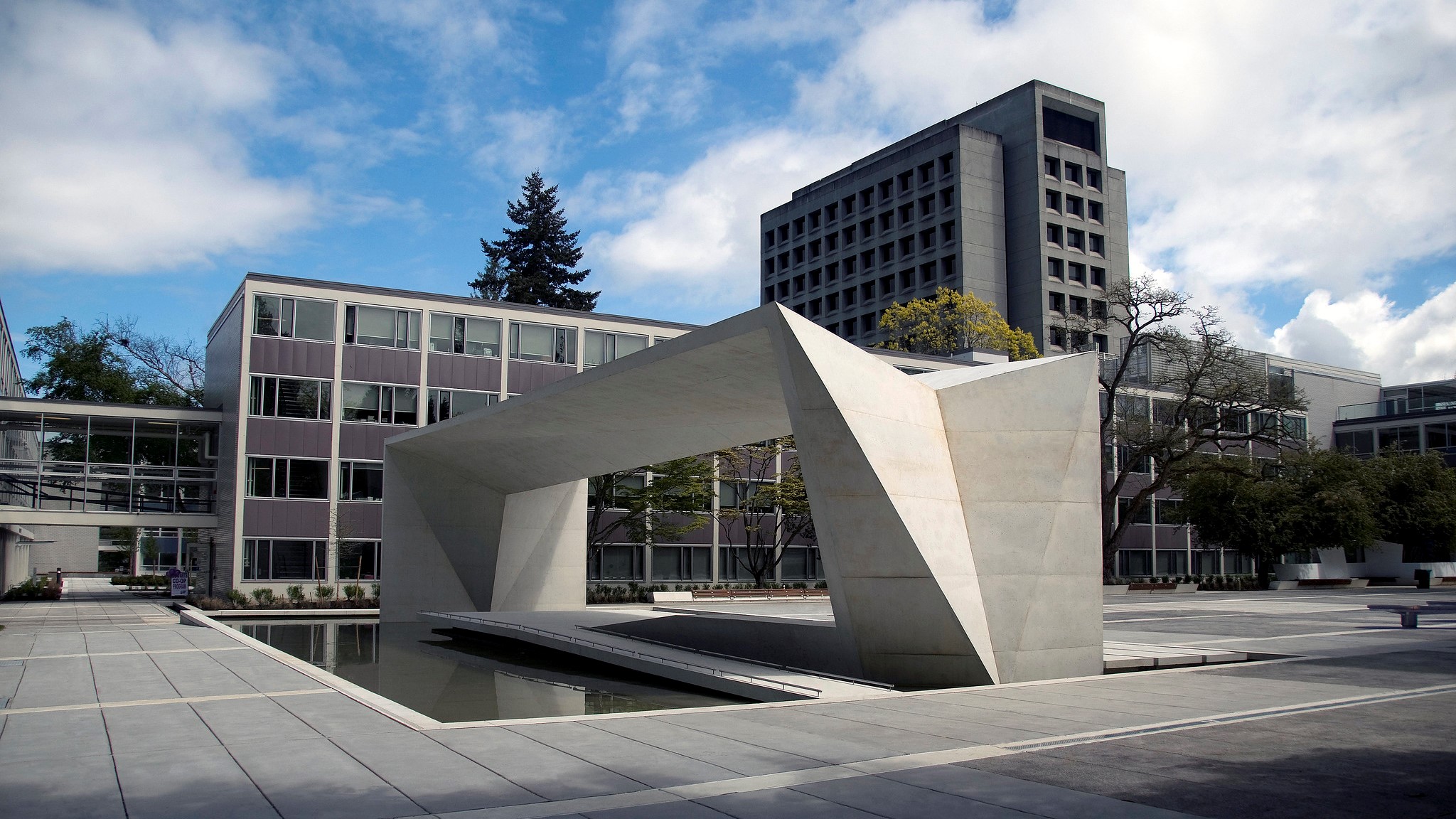 We are thrilled to offer a warm welcome to UBC Theatre and Film's incoming graduate students. From groundbreaking research to innovative new artistic practices, our graduate students are leading the way in exciting advancements in the theatre and film industries, and we are proud to support the diverse and important work that they are doing.
We reached out to our incoming graduate students to learn more about them, their research and artistic foci, and what they are most looking forward to during their time at UBC.
---
Anjali Mandapaka (she/her)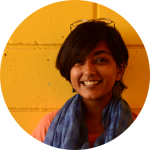 Theatre Design and Production, MFA
Growing up, Anjali was always fascinated by the visual stories projected on a screen that transported her to different realities. She has come to believe that no space is defined or restricted. It is the joy in molding and transforming it that helps her create memorable experiences for someone else, just as they were created for her.
"I've believed as many as six impossible things before breakfast."
—Alice in Wonderland
Honestly, I have a lot of favourites! For me, every stage and every mood of life can answer this question differently. Right now, it would have to be Anna Karenina. The elaborate worlds of theatre and film have been beautifully stitched into one composition.
Designing for film has been magical, but designing for theatre is a new dimension I am eager to experience. Working with the camera, there is a liberty we get in terms of perspective and time, which I thought to be a challenge with theatre. Rather than fear it, I'm curious to explore it.
I believe education is more than just what we learn in the classroom, it's what we can do with these skills that allow us to evolve and discover ourselves as designers. After all, "never try, never know", and it is this hands-on learning experience that drew me to UBC.
Araceli Ferrara (she/they)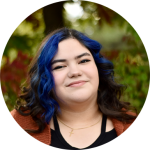 Creative Writing and Theatre, MFA
Araceli Ferrara is a Canadian theatre artist, currently in her first year of graduate studies in Creative Writing and Theatre. She graduated from York University in 2021, specializing in Dramaturgy and Devised Theatre with a minor in history. Born and raised in Toronto, she's the daughter of a refugee and celebrates both her Chilean and Italian heritage.
My favourite book as a child was Anne of Green Gables by L. M. Montgomery. I relate immensely with Anne, and the first novel in the series is still one of the best coming-of-age stories I've ever read. My high school yearbook quote was, in fact, a quote from L. M. Montgomery: "Because when you are imagining, you might as well imagine something worthwhile."
My proudest achievement has been getting to produce my own writing, either as a staged reading or a full production. I've directed two of my own plays and worked with some incredible actors and designers who helped bring my words to life. One magical moment that stood out to me was hearing the sound design for the first time in one of our rehearsals—everyone in the room was so excited that the sound cues hit right on time.
Making new connections, getting to know a new place and working with talented and dedicated people. I firmly believe that people are what makes something special. Everyone has a voice and I'm always ready to listen. I look forward to hearing new voices and sharing my own with those willing to listen.
Claire Cao (she/her)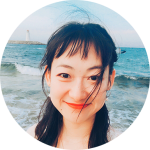 Cinema and Media Studies, PhD
Claire is a PhD candidate in Cinema and Media Studies. Before moving to Vancouver, she lived in Chicago, Monterey, Shanghai and Xi'an. When she's not procrastinating, she likes walking, going on aimless bike rides and drawing appalling pictures of flowers in vases.
It's quite excruciating for me to pick a "favourite". But one of the films that I often go back to and that always brings me joy is Buster Keaton's 1924 classic Sherlock Jr.
My interests include film theory, the aesthetics of Siegfried Kracauer, the relationship of images to film historiography, reception studies, the history of political modernism, horror and surrealist cinema, East Asian cinema and the films of Jacques Tati.
I'm excited to meet new friends, hang out with my cohort, and make the most of the Pacific Northwest.
Hannah Abbott (she/her)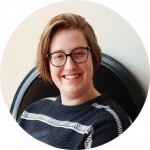 Theatre Design and Production, MFA
Hannah brings her background in philosophy and ethics together with theatre in order to elevate under- and mis-represented communities. She has experience in a myriad of theatrical disciplines including producing, stage management, design and construction. She is also an active member in organizations such as Broadway Green Alliance.
My favourite movie is Room (2015) because of the way the movie so elegantly transforms itself from a tragedy into a tender portrayal of human resilience. The love that mother and child have for one another is so transcendent that you can't help but feel moved by the experience.
I was inspired to pursue technical direction for my masters because I felt there was a need to incorporate a more mindful understanding of accessibility on the technical and managerial sides of theatre. I want to explore that during my time at UBC.
Even though I completed my BFA at UBC as well, I'm still excited to engage with the UBC community in new ways. I hope to be a leader for younger artists as they begin their journeys in the theatre.
Harrison Wade (he/him)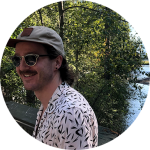 Cinema and Media Studies, PhD
Harrison Wade is a PhD Student in Cinema and Media Studies. He has a BA in Cinema Studies and English from the University of Toronto, where he received the Norman Jewison Fellowship in Film Studies. Besides his research focus, he has written on archives, digital materiality, feminist machinima, YouTube and screen presence. He writes poetry and makes essay films.
It changes all the time, but a safe answer is Roberto Rossellini's Journey to Italy (1954). Nothing really happens. It stars two great actors (Ingrid Bergman and George Sanders) and is otherwise unassuming. Some days it seems like everything's in that movie.
My research focus is non-photorealistic special effects, particularly computer-generated imagery (CGI). I'm interested in realism in our digital turn and the feelings that bad, cheap or dissonant special effects generate. I work with a lot of film theory, phenomenology, affect theory and histories of special effects.
I'm excited to continue working with the supportive faculty from my MA here and learning from my peers in our small but close cohort. And, of course, I'm excited to live and work on this campus and in Vancouver.
Check out Harrison's essay film Uncertain Presence
Michelle Olson (she/her)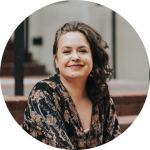 Directing, MFA
Michelle Olson is a member of the Tr'ondëk Hwëch'in First Nation and the Artistic Director of Raven Spirit Dance. She studied dance and performance at the University of New Mexico, the Aboriginal Arts Program at the Banff Centre. She was also an ensemble member of Full Circle First Nations Performance. Michelle works in areas of dance, theatre and opera as a choreographer, performer and movement coach. Her work has been seen on stages across Canada.
My favourite movie is The Piano. I saw it at the Garneau Theatre in Edmonton, a historic 500-seat movie theatre. I was pulled in by the vastness of the cinematography and how female desire created the beautiful and treacherous world of the story.
I investigate, discover and trace how Indigenous artistic practice and principles can hold a rehearsal room and transform the places and spaces that theatre occupies.
Running a non-profit dance company and being a mother of two affords little time to reflect on the foundational aspects of my practice. Having the time and space to do a deep dive into readings, reflections and conversations are what I am most excited to experience at UBC.
Stephen Yaw Oppong (he/him)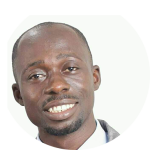 Theatre Studies, PhD
Stephen is a director, playwright and screenwriter. He received his MPhil in Arts and Culture—Dramatic Adaptation and Criticism (2015–2017) at the University of Education, Winneba, Ghana. His company, Reflections Multimedia Productions, aims to start a dialogue on how to resuscitate Ghanaian theatre.
The Last Ship by Steven Kane!
My multidisciplinary approach to research seeks to reframe and appropriate the reception of ancient Greek tragedies by the "Other", outside of the Occidental lens.
The top-notch supervision of the faculty and the classy educational structures and facilities of UBC.
Read Stephen's work on post-colonial theory!
Tamar Hanstke (she/her)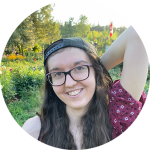 Cinema and Media Studies, MA
Tamar was in high school when she first realized that she wanted to devote her life to studying film, but at the time, it was just a dream: she had no idea this was something she could actually accomplish. Thanks to some truly wonderful professors and two challenging, exciting years in the Film Studies program at UBC, her dream is becoming reality as she embarks on a new journey as an MA student in UBC's Cinema and Media Studies program.
Picking my definitive favourite director would be an impossible task, but one of my best discoveries over the past year has been Gregg Araki. His unusual combination of irony and empathy for his troubled teen protagonists result in some of the most authentic coming-of-age tales I've ever encountered.
My research focuses on the representation of cinephiles within cinema. While there are many audiophiles and bibliophiles depicted in movies, film buffs are considerably more uncommon, and I intend to examine why this might be, as well as assess if the existing depictions of cinephilia accurately represent the real cinephiles watching these movies.
While I did have a small taste of it during my undergraduate degree, I cannot wait to get back on campus and regain access to the physical collections of film studies materials held in the UBC libraries. In particular, the Videomatica collection has a bunch of rare film titles I'm excited to finally check out.
Check out Tamar's work in the Canadian Journal of Undergraduate Research!
---
UBC Theatre and Film is proud to offer a variety of graduate programs taught by industry-renowned researchers and instructors. If you are interested in learning more about the degree options that we offer, visit our Graduate Programs.
While our welcome extends to all of our new graduate students, this post only includes the profiles of students who have opted-in to be featured.