Did you know that on the second floor of the Lassere building, there's an archival and research space housing performing arts resources for UBC Theatre and Film students?  
The Visual Resources Centre, better known as the VRC, houses an incredible collection of films. It boasts a plethora of genres and preserves the minutiae of cinematic history. Dmitri Lennikov, the Film Collections Coordinator, details some of the features of the VRC.  
Q&A with Dmitri Lennikov | Film Collections Coordinator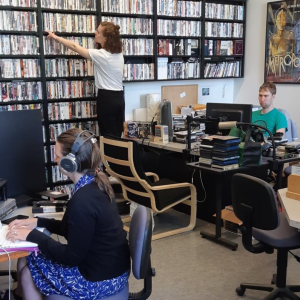 Can you give us a brief introduction to the VRC and its history?

 
The VRC, located in Room 206 on the 2nd floor of the Lasserre Building (6333 Memorial Road), is a space shared by the Department of Art History, Visual Art & Theory (AHVA) and the Department of Theatre and Film (THFL) for the purposes of archiving research material for the visual and performing arts. Since 1987, the VRC has housed a collection of slides and periodicals of historic artworks, and an ever-growing collection of film and film-related memorabilia (such as film scripts and press kits) on a variety of classic (16mm, VHS, laserdisc) and modern (DVD, Blu-Ray, digital) formats, with approximately 12,000+ titles in circulation.   
One of the most notable acquisitions of the VRC was the Videomatica Collection in 2012, which was one of the most notable independent video stores in the Lower Mainland (though it still exists in name only as a retailer for niche and special interest titles as a means of preserving its legacy). Since then, we have added unique and hard-to-find titles to the shelves to ensure that these works remain preserved and accessible for those wishing to view them.   
Students and visitors to the VRC can view these materials on-site using workstations with assistance from the staff, and we occasionally run supplementary discussions and workshops for interested parties to further their knowledge of art history and film.  
What are some hidden gems in the VRC collections?

 

 
We have a variety of genres of film on hand in the VRC, including some rare cult titles that cannot be found anywhere else due to their obscurity and scarcity. Films like E. Elias Merhige's Begotten and Eiichi Yamamoto's adult avant-garde animated film Belladonna of Sadness (content advisory: sexual assault), which didn't make its debut in the West until 2015.   
What are the most sought-after films in the collections?

 
Most of the sought-after films in the collection are those students need for class, so classics such as Citizen Kane and Rashomon are a couple that often get screened.  
How can

undergrads

book the VRC viewing stations?

 
Undergrads can visit the VRC Monday to Friday from 9 a.m. to 5 p.m. and use one of the available stations. Advance booking is recommended so we can better accommodate requests.  
What

kind of projects do

grad

students

utilize

the VRC collections for?

 
Generally, grad students use the VRC collections to gather research material for their thesis topics, and sometimes refer to me to help them find material that is outside of the scope of the collection. Grad students have also run screening/discussion groups as a means of encouraging interest in film outside of the classroom, as well as using film as a medium for exploring social topics. For example, a series of "bad movies" were shown, supplementary to CINE 300's discussion of "paracinema," or outsider cinema, and another was run by grad students of the Department of Political Science to examine the portrayal of major world events in cinema.