Based on true stories shared in interviews during the Changing Childbirth in British Columbia study.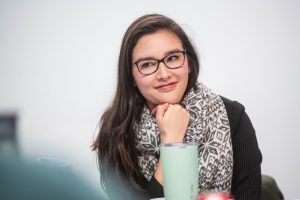 What Happened to Me tells the extraordinary true stories of pregnancy and birth in British Columbia.
In 2014, people from across BC filled out an online survey or participated in focus group discussions to share experiences of more than 3,000 of their own pregnancies. They spoke of caring, supportive, and exceptional care, and also of discrimination, disrespect, and mistreatment that they encountered in the health care system. These joyous and heartbreaking accounts form the basis for a short narrative in which four women exchange stories in What Happened to Me, followed by a TalkBack Session in which the audience is invited to share their thoughts on how to use these stories and research results to improve care for families in BC. FREE!
* Please note that there are two performance dates at two different locations.
Feb 29th
Vancouver Public Library, Central Branch, 350 W Georgia St., Alma Van Dusen & Peter Kaye Rooms (Shows at: 12:00 pm & 14:30 pm)
FB Event: http://bit.ly/37JGEWC
Map: https://tinyurl.com/r4ptxz7
March 14th
Edmonds Community Centre, 7433 Edmonds St., Burnaby, Active Studio Room 176 (Shows at: 17:30 pm & 19:30 pm)
Facebook event page: http://bit.ly/3bLPHd7
Map: https://tinyurl.com/r5o82wc
Website: https://www.birthplacelab.org/changing-childbirth-in-british-columbia/
Cast
Ana Carrizales, Jenessa Galbraith, Ivee Kang, Elle Reimer, and Taryn Yoneda.
Research and Creative Team
Writer, Director, & Knowledge Translation Dr. Dana Solomon (BFA Acting and PhD Interdisciplinary with Theatre alumna); Research Lead Saraswathi Vedam; Research & Production Jasmina Geldman, Clare Mildenberger, and the research team at the UBC Birth Place Lab.
The CCinBC study was a community-led project funded by the Vancouver Foundation and the Michael Smith Foundation for Health Research.