Congratulations to recent UBC Theatre Studies PhD graduate Julia Henderson on her contributions to the journals Canadian Theatre Review and Theatre Research in Canada!
Julia's article, "Frontline Faces of COVID-19: Digital Pandemic Portraits", was recently published in (pause): A Pandemic Time Capsule, a special issue of Canadian Theatre Review. The article describes the creation process for her project "Frontline Faces of COVID-19", which publicly honours the sacrifices of frontline workers during the pandemic through artwork celebrating their humanity and diversity. Her artwork also provides the cover image for the special issue.
"Frontline Faces of COVID-19" can be viewed on Facebook, Instagram, or in the COVID-19 Gratitude and Hope Art Gallery Collection. Julia's article on the project appears in vol. 188 of Canadian Theatre Review.
Julia is also co-guest editor of Age and Performance: Expanding Intersectionality, a forthcoming special issue of Theatre Research in Canada. There will be a virtual launch of the issue from 1:00-2:30 PM PST on November 19 as part of the NANAS Online Symposium: Contested Language and the Study of Later Life.
---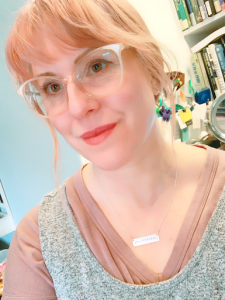 Julia Henderson (PhD in Theatre Studies, '18) is a Postdoctoral Fellow with Concordia University's Department of Communication Studies and its Ageing + Communication + Technologies Lab. She works with the Raising the Curtain Project in Gibsons, BC, which reimagines dementia tragedy narratives through collaborative creation with people with lived experiences of dementia. Julia is also Vice Chair of the North American Network in Aging Studies Governing Council. Her work has been published in The Journal of American Drama and Theatre, Theatre Research in Canada, Canadian Theatre Review, Research in Drama Education: The Journal of Applied Theatre and Performance, Age Culture Humanities, Geriatrics, and the Thornton Wilder Journal.