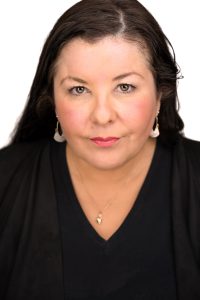 UBC Theatre & Film extends a warm welcome to our newest faculty member, Dr. Alessandra Santos! 
Dr. Santos is an Associate Professor in our Cinema and Media Studies and Film Studies program, and her research area is in Latin American cinema and performance and comparative studies in the hemispheric Americas. Her interdisciplinary research applies postcolonial and decolonial theories, combining film studies and performance studies. Her research and teaching aim to address some of the main concerns of our era: anticolonial, antiracist, feminist and queer issues, social class and the environment.
Can you tell us about your background and what interests you most about working in our department?
It's very exciting to join UBC Theatre & Film! I'm originally from Brazil, and my academic education was in California. I have a BA from UC Berkeley and a PhD from UCLA. I was trained in comparative studies, with a focus on literary, film and cultural theories. My graduate training was with leading Brazilian cinema experts Randal Johnson and Robert Stam. I also have an artist background and experience as a performer. I was a member of several artists' collectives, including a movement-based performance company in Los Angeles. We completed over 50 performances, from the streets to the stage, combining collaborative creation and social activism. In 2015, I had a summer residency at the Banff Centre for Arts, which culminated in a performance to reflect on synthetic ecologies.
What interests me most about working in UBC Theatre & Film are the new opportunities ahead for both my research and teaching. I look forward to being part of a department that matches my diverse interests. It's a tremendous opportunity to apply my background in both Film Studies and Performance Studies in one department.
What area of study/research focus will you be specializing in?
I'll continue researching within my expertise with a particular focus on Film Studies and Performance Studies. I have an innate curiosity, and the best words to define my research are interdisciplinarity and versatility. I specialize in modern and contemporary culture, utopias and technology. My main area of research is Latin American cinema and performance, with an interest in the hemispheric Americas. I apply postcolonial and decolonial theories, and I'm interested in embodiment, gender, feminism, Indigeneity, race, class, environmental issues and social justice. I have published several articles and one co-edited volume on performance in the Americas; several articles on Latin American cinema; and a book studying a controversial transnational cult film. Currently, I have a SSHRC grant to research intersections of African Diaspora and technology in Brazil and the Americas; the project includes a component on Afrofuturism cinema with a focus on cyberculture and embodiment.
What are you looking forward to in this role?
I'm mostly looking forward to working with my new colleagues in the department and teaching the students. It's a wonderful opportunity, and I'm delighted to work together. This role will give me a chance to expand my teaching repertoire and explore new avenues for learning. The best part of being a professor is engaging in dialogue, as well as in intercultural exchanges, and in constant intellectual and creative growth.  
What differentiates your courses from the current program offerings?
My intention is to help diversify UBC Theatre & Film's curriculum, and I believe my specialties will complement the department well. I hope my resourcefulness will be an asset to the department's students. My goal is to adapt existing courses and create new ones, including courses on global cinema, Latin American film and performance, Brazilian cinema, Latinx performance, embodiment and performance in the Americas. I also have several courses ready to go, such as Afrofuturism, Amazon rainforest cinema, African Diaspora in film and Media Studies and Latin America, among others. I have been affiliated with the Cinema and Media Studies graduate program since 2018, and I hope to contribute to graduate education in our department.