The Go Global Greece program is a unique and exciting opportunity for students in the Faculty of Arts to undertake an academic seminar while travelling abroad. This capstone course is open to undergraduates in their third year or above, and is designed to bring together students from a range of degree streams within the Arts to engage with a common set of materials using their respective disciplinary toolkits.  
Eight students were selected to travel to Greece for three weeks in the summer of 2022. The students visited various archaeological sites related to ancient performance traditions and the mythology and history of ancient Greece. They engaged in lectures and workshops, and had the opportunity to immerse themselves in the local culture. The program was led by Hallie Marshall, Assistant Professor in Theatre Studies.  
The students also participated in the creation of a short film of a scene from an ancient Greek tragedy, thanks to a SSHRC Connection Grant. The film is a choral ode, "The Dawn Chorus", from Euripides' Phaethon. It was made in collaboration with the London, UK-based company Barefaced Greek, which specializes in making short films of scenes from Ancient Greek plays, helping to fill in the gap in high-quality recordings of ancient plays. Euripides' Phaethon was written and staged in the last quarter of the fifth century BCE. Most of the play is lost (the fate of the vast majority of plays written in antiquity), but a few hundred lines survive in varying states of completeness, including the "Dawn Chorus". You can watch the final product here!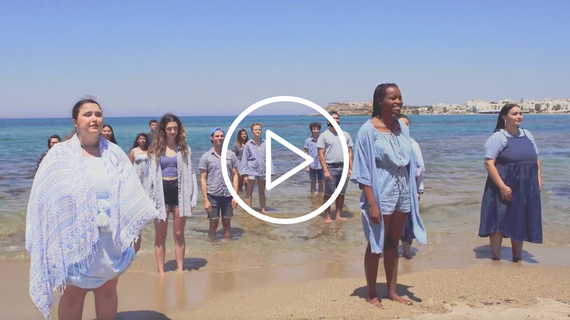 ---
Meet the Students
We chatted with some of the students about the trip. Here's what they had to say!  
Erin Purghart, BFA Acting
What inspired you to take the Go Global Greece Seminar?
I had never left the continent. The furthest I had ever gone outside of BC was Toronto and Los Angeles. I had friends who had gone on the trip years before and I remember walking into my first day of class with Professor Hallie Marshall and asking her when the Greece trip was happening again as I was determined to apply. Never would I ever have been able to afford such a trip of this size as a student and now, an actor, at least not at 22. I also wouldn't have known the good places to go, I wouldn't have learned nearly as much, and I wouldn't have seen as much and learned as much as I did without the folks who organized this trip. I cannot emphasize enough how much going on this trip meant to me. I will keep saying it 'til I'm blue in the face!  
What was your favourite part about creating the short film?
My favourite part was getting to work with the people at Barefaced Greek. Alex, Helen, Mairin, Michael and Michael are all experts in their field and it was so awesome getting to pick their brains as a performing artist just starting my career. Not only were they knowledgeable but also A BLAST to work and play with.
What did you learn from the trip to Greece?
I LEARNED SO MUCH—it's so hard to nail down one specific thing. The people over at Barefaced Greek taught me so much about singing, filming, directing, the industry and life. Professors Hallie Marshall, Toph Marshall, Melissa Funke, and Theatre Studies PhD candidate Mario Kallos all brought different backgrounds to the table, which helped contextualize and make sense of all of the artifacts in the museums and the archaeological sites we visited (there is significance in EVERYTHING and I wouldn't have gotten half of it without them!). A second shoutout to Mario who single-handedly taught a group of us how to read and speak some Greek–I am so grateful I was able to communicate with the people and be as immersed in the culture and the language as possible.
Anything else you'd like to share?
All in all, this trip was, ΜΕΛΙΒΟΑΣ, and one for the books.  
Danielle Lee, BA English and Classics
Tell us about a memorable moment from your Go Global Greece experience
I particularly loved seeing the Parthenon on the Acropolis in Athens—it was a very windy day and the sky was amazing. But honestly, every moment in Greece was very memorable, whether it was the museums, temples, historical sites, beaches, or mountains. Another great moment was when our group sang the chorus at the ancient theatre in Epidauros and in the tomb of Agamemnon. The acoustics in both locations were incredible.
What inspired you to take the seminar?
Classical Studies was one of my majors at UBC, so I had always wanted to visit Greece and see the historical sites, monuments, and artefacts that I've spent most of my undergraduate degree studying. To be able to ground my studies in real-life experience and location via this trip was amazing.
What challenged you about the trip or the creation of the short film?
I had never really been a part of a film production before, so getting comfortable in front of the camera was daunting. Luckily, it was really fun and rewarding to work with my classmates, and we had a great director and film crew.  
Ceanna Wood, BA Theatre Studies
What inspired you to take the Seminar and what did you learn?
One of the main parts of this trip that interested me was getting to learn so much about the history of Greece, especially its theatrical history as I was just completing my bachelor's degree in theatre studies. This trip allowed us to see many ancient ruins, sites, and ancient Greek theatres while multiple professors (Toph Marshall, Hallie Marshall, and Melissa Funke) who knew the area and history provided guidance and answered any questions we had. We were also very lucky to have Mario Kallos with us who is originally from Greece and was able to teach us more about modern Greek culture and language. Mario was usually in charge of the food ordering and ensured we all had some amazing dishes. It was interesting to eat in Greece as they have dinner a lot later than we do here in North America and they usually order multiple dishes to be shared with the table. This experience was very fun because we typically had 14 people at our dinners and we got to try many different foods throughout the three weeks.  
Tell us about the creation of the short film
Working with 14 other students was really incredible and probably my favourite part in filming was being able to laugh and relate with everyone there as we grew strong bonds that have made lifelong friendships. We would have some long days but no matter what we were all so accommodating and understanding whenever people needed to take a break, have a snack, go back to their room to nap etc.  
Anything else you'd like to share?
We are all eternally grateful to Hallie Marshall for making this happen especially as it had been cancelled multiple times over two years and we were one of the only Go Global seminars that could travel because of her dedication to us and this project.  
---
This Go Global Seminar was made possible through funding provided by an Arts Research Abroad Award and a SSHRC Connection Grant, with additional support from the SCS Ancient Worlds Modern Communities Initiative, UBC Department of Theatre and Film, UBC Department of Ancient Mediterranean and Near Eastern Studies, UBC Faculty of Arts, and the Peter Wall Institute for Advanced Studies. Funding also ensured that students received financial support to participate (students had 70%-100% of their costs covered, excluding tuition and meals).