Join us for a FREE film screening and Q&A with our 2022/23 Phil Lind Multicultural Artist in Residence, Kathleen Jayme!
To die-hard fans of ill-fated NBA franchise, the Vancouver Grizzlies, the team's abrupt move to Memphis in 2001 is much more than a sore spot, it's an unsolved mystery and possibly a criminal conspiracy. What begins as superfan-turned filmmaker Kat Jayme's investigation into her hometown team's disappearance, becomes a love letter to the worst professional sports franchise in history, and an exploration of the deep roots of fandom. Watch the trailer here!
After the screening, you'll have the opportunity to hear directly from Kat herself during a Q&A—learn more about her creative process, her experience making the film, and the fascinating stories she uncovered along the way. Whether you're a Grizzlies fan or simply love great filmmaking, this event is not to be missed!
Free to attend with registration.
Schedule:
6:45 pm – Reception with light refreshments
7:30 pm – Screening of The Grizzlie Truth (approx. 90 minutes)
9:00 pm – Q and A
---
Kat Jayme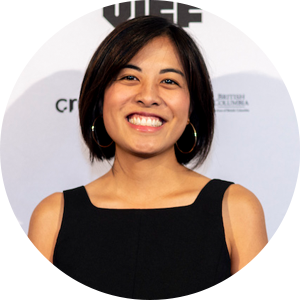 Kathleen Jayme is an award-winning Filipina-Canadian filmmaker based in Vancouver, BC. Her breakthrough documentary Finding Big Country was the winner of the 2018 VIFF People's Choice Award and the #MustSeeBC Award and has been programmed by Telus, ESPN, ABC, Amazon, Rogers Sportsnet, NBA TV, and Air Canada. She has recently finished her first feature film, The Grizzlie Truth with Crave and Uninterrupted Canada. Kathleen is the winner of the 2019 TIFF Pitch This! competition as well as the 2017 Storyhive 100K grant edition, and a fellow of the 2019 Netflix-Banff Diversity of Voices Initiative, the 2017 Hot Docs Documentary Channel Doc Accelerator program, and the 2017 Telus Storyhive Banff World Media Festival program.