UBC Theatre and Film is thrilled to welcome our two newest faculty members, Kunji Ikeda and Dr. Keren Zaiontz!
Read more about them, their research and their upcoming course offerings below.
---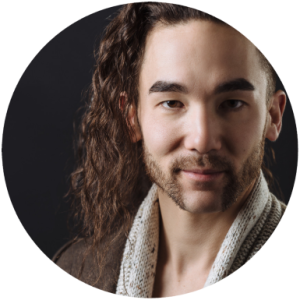 Kunj Ikeda plays with physical communication to grow physical, emotional, and spiritual wellbeing within his community. His fearless political work explores our communities' most pressing political ideas and has earned multiple Betty Mitchell award nominations for performance and choreography. Ikeda has trained intensively with One Yellow Rabbit and has offered his diverse dramaturgical lens to dance, theatre, choir and musical ensembles across Canada. Through the Paris-based L'AiR Arts, Ikeda became a member of an ongoing international cohort of interdisciplinary artists with the intention of empowering artists as vectors of cross-cultural dialogue to fuel the evolution of culture, politics and society.
Ikeda was awarded the Enbridge Emerging Artist Award by the Calgary Arts Development Authority in 2015, as well as named an Artist in Residence at the Banff Centre 2019 to generate his massive dance theatre adaptation of Dostoyevsky's Crime and Punishment. In February 2020 Ikeda was invited into the rehearsal process of Akram Khan's work Creature with the English National Ballet. In the summer of 2020 their clown-dance work Know the Rules, Win the Game was one of five Canadian works curated to present at the Canadian Dance Showcase at the world-renowned TanzMesse in Dusseldorf, Germany. Their award-winning solo performance Sansei: The Storyteller continues to be presented internationally. They were honoured to serve as Programming Director of the National Association of Japanese Canadians' first national arts summit for the fall of 2022, and was also named One Yellow Rabbit's Arts Leadership Associate.
Ikeda is passionate about recognizing and supporting performance ecologies on multiple scales: small-scale workshops, mid-scale productions and large-scale cities. Ikeda has been a passionate advocate for equity-seeking voices and diverse representation in the arts. They were a founding member of the 35//50 Initiative (now part of Theatre Alberta) inviting Alberta-based arts organizations to ensure artistic spaces reflected the diversity of the communities we live in.
---
Keren Zaiontz is Assistant Professor of Theatre and Performance Studies in the Department of Theatre and Film and the Bachelor of Media Studies Program. Her research focuses primarily on the cultural politics of contemporary art and performance in global north cities. Her areas of study include artistic and social practices that take place in redeveloped urban environments, the intertwined frontiers of digital and embodied art-activism, participatory and immersive modes of spectatorship, and the workings of performing arts festivals and urban mega-events.
She is the author of Theatre & Festivals (Red Globe Press, 2018), part of the Theatre & series. The book explores the ways in which cultural performances of resistance that have their basis in festivals can migrate to other contexts, making festivals as much the domain of free markets and state power as that of vanguard artists and progressive social movements. Keren is co-editor of numerous special issues and anthologies including Sustainable Tools for Precarious Times: Performance Actions in the Americas with Natalie Alvarez and Claudette Lauzon (Palgrave Macmillan, 2019), winner of the Excellence in Editing award by the Association for Theatre in Higher Education (ATHE). She has written for Theatre Journal, Theatre Research International, Contemporary Theatre Review, Canadian Theatre Review, PUBLIC, and other journals and edited collections.
Keren regularly publishes interviews with the contemporary artists and activists that she profiles in her research. These dialogues are not only core to her methodology but her public engagement in events such as the PuSh International Performing Arts Festival, where she co-led the Institute for Performance Studies' 2020 Critical Ideas Series.
Her current project, "Spectacles of Stigma in a World Beyond Shame," examines the resurgence of authoritarian regimes through a diverse prism of public and private performances that include the autotheoretical analysis of her paternal grandfather's Ukrainian NKVD records. Keren joins UBC from Queen's University, Kingston, where she taught in the Department of Film and Cultural Studies Graduate Program as Assistant Professor and Queen's National Scholar in Creative Industries in the Global City.