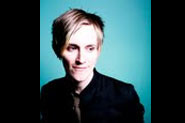 Congratulations to UBC Film and Creative writing alumna Gwen Haworth who has been selected for 2014's Remarkable Women Poster Series to honour local women who have made significant contributions to arts, culture, sports, and community in Vancouver.
Each year a theme is chosen and nominations and stories are collected and shared. From those nominations a group of 12 women are selected representing diverse backgrounds, abilities and experiences are featured on posters.
This year's theme is The Year of Reconciliation, highlighting women who make their community stronger by standing up to adversity and embracing diversity. The women are also honoured at a public reception timed to coincide with International Women's Day (March 8th). The posters, which are on view in community centers, schools, and libraries throughout Vancouver, are a unique way to highlight the important role women play in our daily lives.
Haworth is best known for her multi-award winning documentary, She's a Boy I Knew, which explores her gender transition through the voices of her parents, sisters, best friends and partner and has played in over a hundred film festivals around the world, and continues to be used in post-secondary curriculum in schools across North America. She is also an active social equity advocate who has been working in harm-reduction shelters and low-barrier housing since 2005. She facilitates over fifty queer and trans inclusion workshops per year, through the Vancouver Coastal Health Authority.
More news! Haworth's latest short film, a woman with a past, which is within a compilation of 7 short films by gender non-conforming filmmakers, will premiere at the Berlin International Film Festival in February. The omnibus feature is entitled Fucking Different XXY, and is produced by Berlin filmmaker Kristian Petersen.
a woman with a past is a raw, candid glimpse into the lived experience, self-preserving humour and written words of trans, intersex poet Antonette Rea. In her affable nature, Antonette recounts her years working the streets, her struggles with stigma, violence & addiction, and how ultimately her humour and poetry have been essential to creating a new chapter of healing and self-expression.
For nomination info:
http://remarkablewomen2014.wordpress.com/?s=Gwen
Gwen Haworth's website:
http://www.gwenhaworth.com/director.html