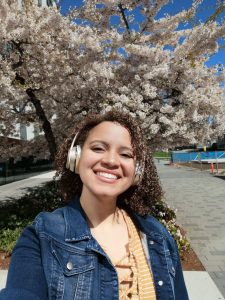 Coral Santana is an Afro-Latina writer, producer, and activist born in the Dominican Republic, currently located on the traditional, ancestral and unceded territory of the xwməθkwəy̓əm (Musqueam) people. She is a 4th-year student at UBC, majoring in Film Studies with a minor in Creative Writing.
In her work, Coral explores her mixed heritage and how colonialism has shaped her perception of self. Her writing is infused with memories from her childhood and how unlearning and relearning her history continues to shape her. As well, she is an avid advocate for gender, sex and sexuality empowerment, using her platforms to amplify the voices of resistance in her community.
She is currently the director of Dive Into UBC, a student-run organization that focuses on highlighting UBC student artists and fostering the arts and culture community at the university.  The Strategic Communications and Events Assistant Manager (Work Learn position) for UBC Arts and Culture District this year, Coral is the Creative Director and Producer of ARTIVISM: SEX + The Unheard.
Her thoughts of finishing her degree during the 2020/21 year, filled with challenges and yet, with so many opportunities, speaks to a person who is a life-long seeker of truth, an artist, and an activist that UBC Theatre and Film is proud to have as part of their cohort.
"This year is full of unimaginable opportunities. The idea of creating distanced connections amidst a global revolution is going to transform how we communicate in general. As a storyteller and someone who is in love with stories in general, I cannot wait what we, as a collective, are able to create with our "new normal". This is a time to take a stand and support our communities and those surrounding us. To take the time to understand what we have been putting off as the world takes a full stop to reshuffle its gears. 2020 has been incredibly challenging so far, but as I move into the final year of my undergrad, under completely unexpected circumstances, I keep my blessings and opportunities close to my heart and cannot wait for what else is to come."
ARTIVISM: SEX + The Unheard
UBC Arts and Culture District and Dive into UBC, produced in partnership with BC Culture Days, are proud to present the 2020 rendition of their festival ARTIVISM. ARTIVISM: SEX + The Unheard. Opening Friday, September 25, this two-month-long digital festival engages with the art of creative resistance and the politics of the body. They will be highlighting minority voices and their experiences with sex, gender, sexuality, and ownership of their body. LGBTQIA+, BIPOC, visibly religious, and artists with disabilities will join their voices to shed light to their perspective and how they use their art and their platforms to regain control over sex, sexuality and their own bodies.
The festival will engage with the theme through several types of programming, from workshops on Race and Kink and Consent Culture, Spoken Word performances and Live Music, to Stand Up, Sex Activism trivia nights and an Aphrodisiac Cuisine cooking show!