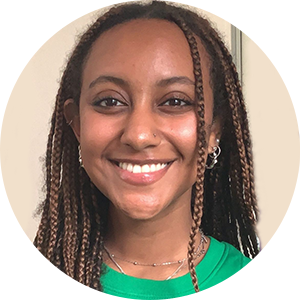 UBC Theatre and Film is pleased to share that undergraduate student Ruth Tesfahun is the recipient of the inaugural Rogers Communications Award in Film Production. Established in 2022, this award has been  made available annually for BFA Film Production students who are First Nations, Inuit, or Métis, or who identify as Black; and are entering the program directly from secondary school or transferring from another post-secondary institution.  
Ruth is in her first year of the Film Production program and moved to Vancouver from Toronto to attend UBC in September. We spoke to her about her passion for film production and asked a few just-for-fun questions too!  
What inspired you to pursue a career in film?   
Growing up, I would go to the movie theatre all the time. I babysat and all of my earnings would be spent on going to the movie theatre with my best friend. When I was home alone, I used to watch several (not always age-appropriate) movies because I wanted to watch any movie possible.  
The movie that made me realize that I want to pursue a career in film is The Shawshank Redemption—I remember watching that with my brother when I was 12 or 13 years old. That is considered a perfect movie in my mind. I want to replicate that feeling that I had in my own work. 
What are you excited to be working on right now?
I am not making a ton of stuff right now but I write a lot. I am always writing random things in any spare time that I have. I am also in the mentorship program here where I have the opportunity to get amazing jobs on my mentor's set. 
What are you looking forward to exploring in the film program?   
I am excited to do anything practical. My high school program was very academic-based.  I am excited about the 12-hour days where you are working on sets. I am excited about actually knowing what I am doing. A lot of first years share the same feelings. 
Do you have any advice for prospective Black students considering applying to the film program?   
My advice is not to limit yourself in what you're able to do. I was so sure I was not going to get into the program. I never thought I would get into UBC. I think being okay with imposter syndrome is important—nobody knows what they are doing. 
Lightning round:   
Favourite film:  Coraline  
Hero: My mom for life and for films, Mike Mills, Jordan Peele, and the Safdie Brothers  
Sweet or salty snack: Salty  
Early bird or night owl: Early Bird  
The one word your best friend would use to describe you: Likeable